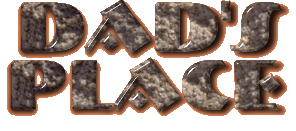 My dad was born on December 12, 1913, in the Silver Lake section of Cranston, the second in a family of seven, three brothers and three sisters, named Michael after his mother's brother. For years we thought his name was simply Michael John, until the day we had to go downtown to get a copy of his birth certificate. His full name, registered in the Italian rather than English, was "Michele Giovanni Baptiste Antonio Lanzi"! His father was Vincente Lanzi (always called "Jimmy" by his friends) and his mother was Matilda Verdecchia. The family originally came from the area around Rome.

My dad was kind of a shy kid, not a good thing for an Italian boy way back then, since they were expected to be tough. He still managed to have the usual schoolboy scrapes; one of his favorite stories was the day he snuck out of his eighth grade class with some friends--the teacher had a habit of telling the children to study and then falling asleep!

At age 14, he had to quit school to go to work. He started out learning to polish knives at the Colonial Knife company, where his older brother worked. He was in the National Guard when World War II broke out, and was sent to the European Theatre after training in Jesup, Georgia. He saw action in Germany (the Black Forest) and Austria. For years afterwards he loved to tell how neat and clean the German homes were, despite the carnage going on around him.

When he was demobilized he had planned to go back to Colonial Knife, but came home to find out his job had been taken by a family man that he was loathe to displace. After eight months out of work, he was hired by Trifari, Krussman and Fishel, the great costume jewelry company, as a polisher. In 1956, Trifari made the beautiful tiara Mamie Eisenhower wore to the Inaugural Ball, and their jewelry is still very much in demand by collectors. He worked there 29 years until he was retired.

It was at Trifari that he met my mother, who was working in the gluing-in department. They were married on May 10, 1947. Until they went "housekeeping" in 1951, they lived with my mother's parents.

Unlike your stereotypical Rhode Islander who is supposed to not like to travel far, Dad loved to go away on vacation. We drove to California and to Florida twice, to Virginia several times, and all around New England, upstate New York, and Quebec and Ontario, Canada. We visited to Disneyland, Disney World, Colonial Williamsburg, San Simeon, San Francisco, and even the 1964 New York World's Fair. He was a lifelong John Wayne/Western/war movie fan, but the one movie he paid again to see was Close Encounters of the Third Kind. He also loved 2001: A Space Odyssey, and raised eyebrows among co-workers in believing there was life in outer space.

From when I was in high school, he somehow saw a trend coming and urged me to "get into computers--they're the coming thing," but back then the only students who got to handle them were Straight-A math majors (a math whiz I ain't). Sadly, he passed away before I became enamored of word processors and the Web.

He died on August 1, 1985 and is buried at St. Ann's Cemetery in Cranston, RI.

Most of the following are his war photos.
---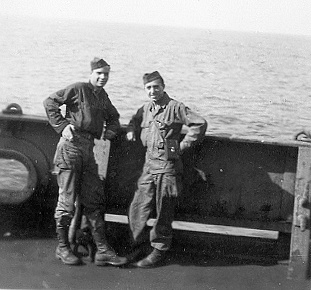 This is Dad [right] with a buddy on a troopship.
Don't know whether he's going or coming in this shot.
---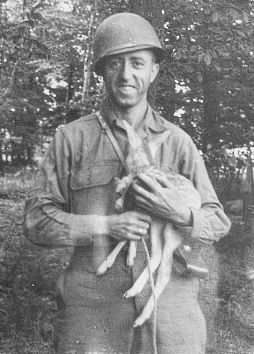 This is my favorite picture of my dad from the war.
He and his buddies found this fawn separated from its mother after a battle.
The doe later came back for it and they had to give it up.
---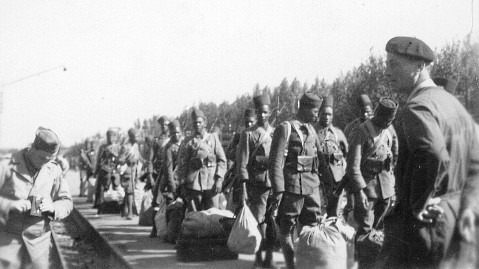 My husband believes these are Algerian troops.
If anyone knows differently, let me know.
---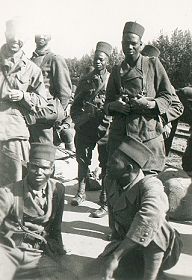 That very overexposed, smiling face in the upper left hand corner is my dad with the Algerian troops.
---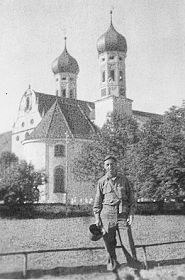 I don't know what denomination church this is.
It almost looks Russian!
---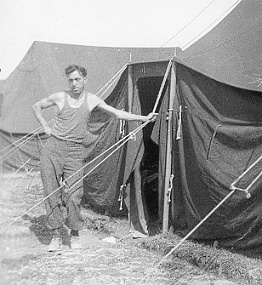 This looks like a more permanent encampment, as compared to the next photo.
You can see how much weight Dad lost.
When he left home he was 185 pounds; he was 125 when he returned.
---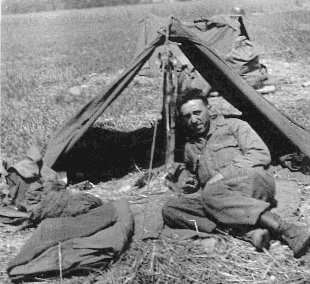 On the march: a temporary rest.
---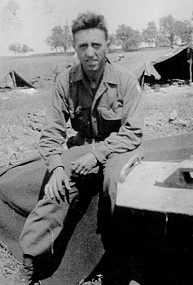 Evidently Dad had just pulled his helmet off!
---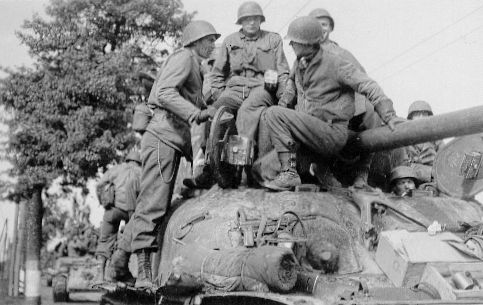 Dad's own caption for this was "The infantry gets to ride tanks."
This is an M4 Sherman tank, perhaps an A2 with a 75mm gun.
---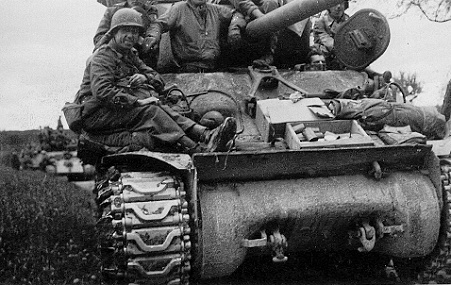 Dad riding the tank. Bet it was better than marching!
---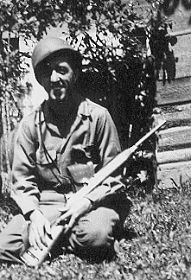 A good infantryman is never without his rifle!
---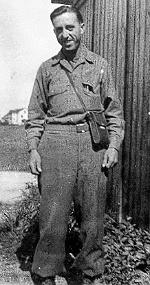 Here Dad poses for the camera; not sure what the building is.
That's his own camera slung over his shoulder.
The camera is still in the attic.
---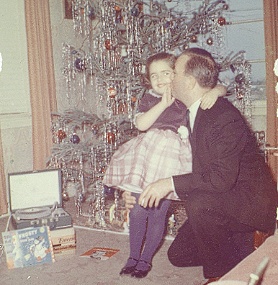 This photo is from 1961. I had just turned six and was embarrassed!
Return to Linda's Nostalgia Place